How to see who viewed your Facebook profile
Have you ever wondered who viewed your Facebook profile? I know you have done it many a time. Unfortunately, there are no formal ways to get the information of your profile visitors on Facebook. But don't worry! We got a few unofficial ways to figure out who visited your Facebook profile. You don't have to rack your brain for doing that. 
Can you really see who views your Facebook profile?
Yes, you probably can! Though there are no official ways, you can do it making use of a "who viewed my Facebook profile Chrome extension" or by installing another mobile/desktop application. Plenty of "who viewed my Facebook profile extensions" are available in the Chrome Store, also you can find many mobile/desktop applications available for downloading. But, please be careful as most applications is desired for the sole purpose – just to steal your personal details. Please do not enter any login credentials to any 3rd party extensions/applications once you are asked to do so.
The safest way how to see who viewed your Facebook profile is doing it by manual searching in page source. Then you can exclude any personal details theft and you can be sure that your personal data are safe. Check method below how to do so.
Using the Browser Only
You only need a browser in order to check who looks at your Facebook profile using this method. The steps are given below:
Step 1: Visit facebook.com and log in. You will see your news feed. But you have to be at your timeline here. So click the first name of yours given on the blue navigation bar on top of the web page.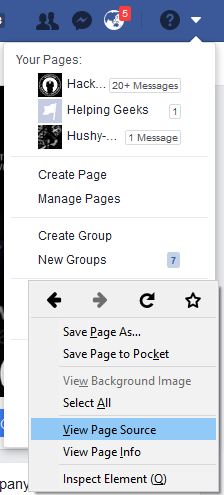 Step 2: Right click anywhere on an empty area. And look for the "view page source", click on it. A new tab will open with lots and lots of  code. Don't hesitate its very  simple just follow the next step.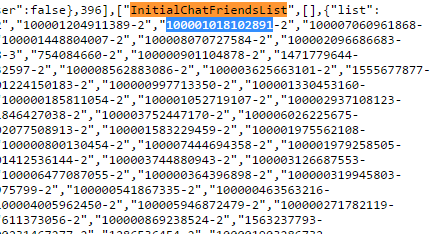 Step 3: Now, you can see a long page with incomprehensible codes. Press Ctrl+ F at this step to get the search box. Type in "InitialChatFriendsList" without quotes and press Enter.
Step 4: It will take you somewhere where ID's are present. These  ID's are none other than the ID's or the users who has seen your Facebook profile.
Step 5: Next, copy the single ID leaving the part after "-" as shown in above picture in blue color and paste it after the link "www.facebook.com/ID".  For example: "www.facebook.com/1001675438"" and then press Enter. This will open a profile of a user, means this user has seen your profile.
Step 6: As you can see in the image, you will see a bunch of numbers after this text. Those are the profile IDs of people who recently visited your Facebook profile. To see whose IDs are those, you need to add the same after 'facebook.com/' and enter into the address bar of your browser.
NOTE: An ID which is coming in the first place has seen your Facebook profile recently than the ID appearing at 2nd  position and the ID at third position has seen before 4th one means the recent views of your Facebook profile comes first. But this trick doesn't reveal that at what particular time or day the user has seen your Facebook profile.
Conclusion
So with this trick you can check who keeps coming regularly on your Facebook profile. This trick only works on Google Chrome browser. Hoping that after following this article you get to know how to see who views your Facebook profile. However, you can share your thoughts and queries if you find any problem while following the above procedure. We are not sure about the legibility of this method and we cannot ensure 100% validity of output. Proceed at your own risk.
ALSO READ: Send Anonymous emails: 19 sites to keep your identity hidden 
source: http://www.dreamytricks.net