10 of the best plugins to keep your wordpress site safe
WordPress is the most popular CMS used for million of websites worldwide. Take a look at the top WordPress plugins that are used by bloggers around the world to beef up the security of their site.
1. Wordfence Security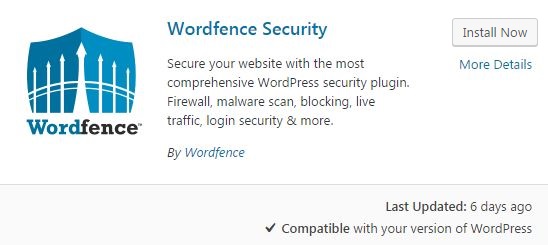 THE MOST DOWNLOADED WORDPRESS SECURITY PLUGIN
WordPress security is all we do. Secure your WordPress website with Wordfence. Powered by the constantly updated Threat Defense Feed, our Web Application Firewall stops you from getting hacked. Wordfence Scan leverages the same proprietary feed, alerting you quickly in the event your site is compromised. Our Live Traffic view gives you real-time visibility into traffic and hack attempts on your WordPress website. A deep set of additional tools round out the most complete WordPress security solution available.
Features:
WordPress Firewall
Blocking Features
WordPress Login Security
Security Scanning
Monitoring Features
Multi-Site WordPress Security
IPv6 Compatible
Free Learning Center
2. WP-DBManager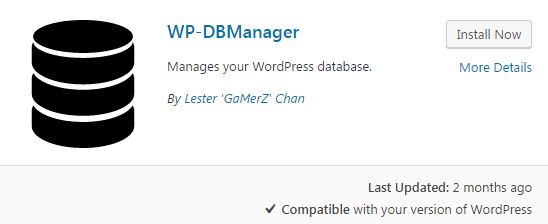 Allows you to optimize database, repair database, backup database, restore database, delete backup database , drop/empty tables and run selected queries. Supports automatic scheduling of backing up, optimizing and repairing of database.
3. AntiVirus for WordPress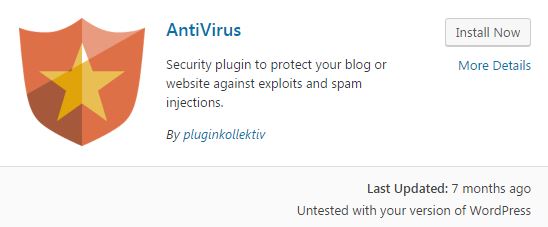 AntiVirus for WordPress is a easy-to-use, safe tool to harden your WordPress site against exploits, malware and spam injections. You can configure AntiVirus to perform an automated daily scan of your theme files and database tables. If the plugin happens to detect any suspicious code injections, it will send out a notification to a previously configured e-mail address. In case your WordPress site has been hacked, AntiVirus will help you to become aware of the problem very quickly in order for you to take immediate action.
Features:
Virus alert in the admin bar
Cleaning up after plugin removal
Translations into many languages​​
Daily scan with email notifications
Database tables and theme templates checks
WordPress 3.x ready: both visually and technically
Whitelist solution: Mark suspected cases as "no virus"
Manual check of template files with alerts on suspected cases
Optional: Google Safe Browsing for malware and phishing monitoring.
4. JetPack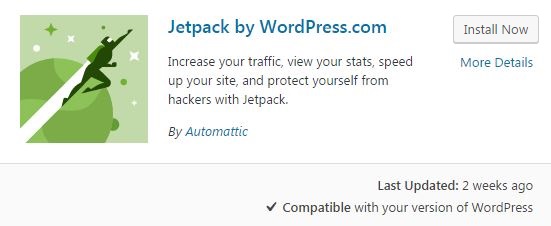 Jetpack simplifies managing WordPress sites by giving you visitor stats, security services, speeding up images, and helping you get more traffic. Jetpack is a free plugin.
Features:
Traffic Growth & Insights
Security
Image Performance
Centralized Management
A few more things that our users love
Dedicated Support
Contributing to Jetpack
5. Sucuri Security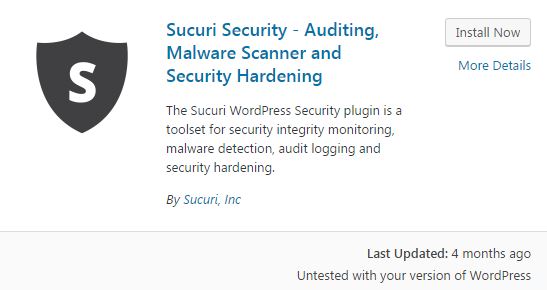 Sucuri is a globally recognized authority in all matters related to website security, with specialization in WordPress Security. The Sucuri Security WordPress Security plugin is free to all WordPress users. It is a security suite meant to complement your existing security posture with seven key security features.
Features:
Security Activity Audit Logging
File Integrity Monitoring
Remote Malware Scanning
Blacklist Monitoring
Effective Security Hardening
Post-Hack Security Actions
Security Notifications
6. iThemes Security (formerly Better WP Security)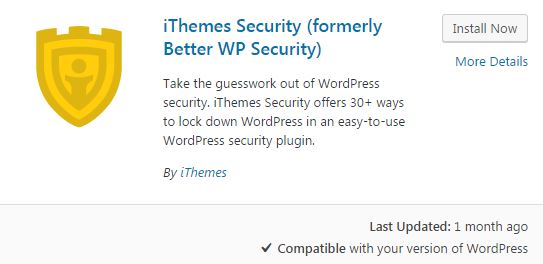 iThemes Security is the #1 WordPress Security Plugin. iThemes Security (formerly Better WP Security) gives you over 30+ ways to secure and protect your WordPress site. On average, 30,000 new websites are hacked each day. WordPress sites can be an easy target for attacks because of plugin vulnerabilities, weak passwords and obsolete software.
Most WordPress admins don't know they're vulnerable, but iThemes Security works to lock down WordPress, fix common holes, stop automated attacks and strengthen user credentials. With advanced features for experienced users, our WordPress security plugin can help harden WordPress.
Features:
Maintained and Supported by iThemes
Plugin Support and Pro Features
iThemes Sync Integration
iThemes Brute Force Attack Protection Network
Protect
Detect
Obscure
Recover
Compatibility
Translations
7. WP Security Audit Log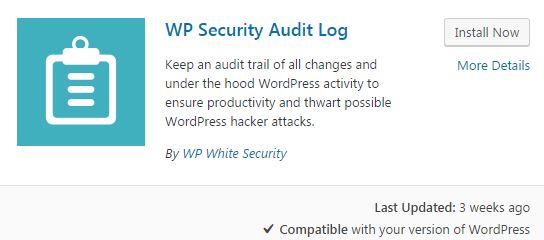 Keep an audit log of everything that is happening on your WordPress and WordPress multisite with WP Security Audit Log to ensure user productivity and identify WordPress security issues before they become a security problem. WP Security Audit Log, WordPress' most comprehensive user monitoring and audit log plugin already helps thousands of WordPress administrators, owners and security professionals ensure the security of their websites and blogs. Ensure the security of your WordPress too by installing WP Security Audit Log. The community's favourite WordPress user monitoring and security auditing plugin is developed by WordPress Security Consultants and Professionals WP White Security.
Features:
WP Security Audit Log for WordPress Multisite
Monitor WordPress Users Activity & Productivity
Keep A WordPress Security Audit Log & Identify WordPress Security Issues
Free and Premium Support
WordPress & PHP Errors Monitoring Tools
8. Security Ninja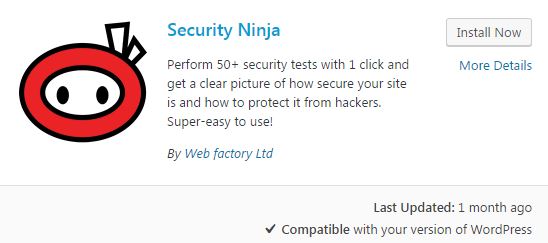 A combination of WP security best practices rolled into a single plugin, Security Ninja performs over 31 security tests, like brute-force attacks. Your site is checked thoroughly for holes and security vulnerabilities, and preventative measures help stop attacks.
Tests included:
brute-force attack on user accounts to test password strength
numerous installation parameters tests
file permissions
version hiding
0-day exploits tests
debug and auto-update modes tests
database configuration tests
Apache and PHP related tests
WP options tests
9. Scan Security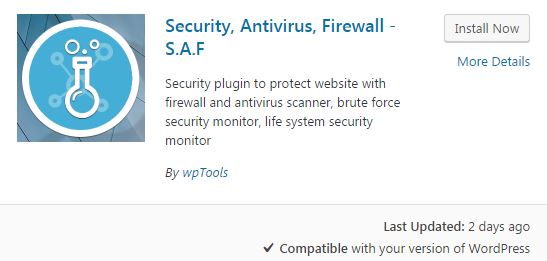 Security plugin of the website it's key to your safety and calmness. Protect your website from hackers attacks and spammers. Powerful tools with smart algorithms, simple interface and very effective action protect files on your server from any kind of malwares and vulnerabilities themes and plugin. S.A.F. plugin work in background to protect your entire website and every single part of your website. S.A.F. scan all plugins, themes and core files in background as result you get full reports and detailed logs. S.A.F. notfiy you multiply ways all security threats and attacks attempts. S.A.F. most powerfull security tool for wordpress with multi site functionality support. Scan files system, healing infected files, protect your website from brute force attacks it's a main goals of S.A.F.
Features:
Live System Monitor (System Log)
Antivirus
Cloud Antivirus Monitor
Security Email Report
Firewall (Network Monitor)
Brute Force Monitor
404 Detector
Easy Password
Google Captcha
Auto Update
Cron Scheduler
10. BulletProof Security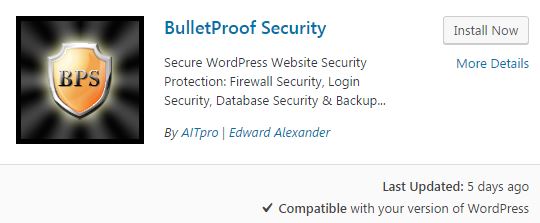 Secure WordPress Website Security Protection: Firewall Security, Login Security, Database Security & Backup… View Security feature highlights below. View BulletProof Security feature details for specific details about security features. Secure your WordPress website even further by adding additional BulletProof Security Bonus Custom Code (See the BulletProof Security Bonus Custom Code help section). Effective, Reliable & Easy to use WordPress Security Plugin.
Features:
One-Click Setup Wizard
.htaccess Website Security Protection (Firewalls)
Hidden Plugin Folders|Files Cron (HPF)
Login Security & Monitoring
Idle Session Logout (ISL)
Auth Cookie Expiration (ACE)
DB Backup: Full|Partial DB Backups | Manual|Scheduled DB Backups | Email Zip Backups | Cron Delete Old Backups
DB Backup Logging
DB Table Prefix Changer
Security Logging
HTTP Error Logging
FrontEnd|BackEnd Maintenance Mode
UI Theme Skin Changer (3 Theme Skins)
Extensive System Info